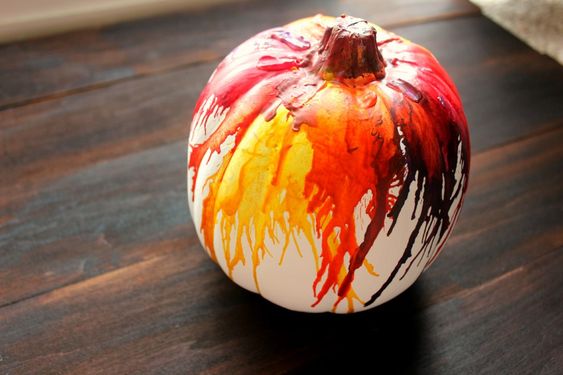 This Halloween find unique and spooky decoration ideas for your pumpkins. You can try this cool melted crayon pumpkin ideas which require no carving. This craft is easy to make and is a fun project for kids and adults.
You need some simple supplies to make this craft;
Crayons( old and broken will also do),
A hot glue gun
A hair dryer or a heating tool
Pumpkin/Faux Pumpkin
The melted crayons gradually drip down due to the heat, creating fun patterns on the sides of the pumpkin. This color splatter might turn out to be a bit messy at times, so you can use some sheets or newspaper below the pumpkins while making this. A crayon pumpkin is easy to make and you can create them in all sorts of colors from Halloween colors to rainbow colors and beyond! Learn interesting techniques about how to melt crayons on a pumpkin to decorate it.
You May Also Like: "How to Make Styrofoam Pumpkin"
How to Make Melted Crayon Pumpkins: 12 Tutorials with Instructions
This DIY tutorial uses a faux white pumpkin to get the best effect with melted crayons. This is quite an easy yet creative idea to make your own no-carve pumpkin. All you need to do is get some old crayons and stick them on the top of the pumpkin near the stem with a hot glue gun. Use your hairdryer and have fun watching the crayons melt and make beautiful designs.
These mini pumpkins are decorated with melted crayons but with a unique twist. A fun craft activity which will make amazing and spooky decorations for the Fall and Halloween. You can use different sizes of pumpkins to make a classic arrangement.
This is such a fun and easy craft ideas for kids and adults too. This Fall, try melting crayons to make beautiful pumpkin decorations.
If you are done with the conventional orange, white and black pumpkin ideas, try this rainbow colored pumpkin with melted wax or acrylic crayons. The scattered pattern looks creative and gives your Halloween decor an artistic touch.
This Youtube video tutorial will guide you with step by step instructions to create this carved pumpkin by melting crayon colors.
Now kids can easily use their old and broken crayons and give them a new life with this Crayola melter. Make amazing patterns on a pumpkin with this for this autumn and decorate them creatively. Using black colors will add to the spooky effect.
You May Also Like: "Pumpkin Painting Designs"
If you're looking for a fun autumn craft with a twist for your Halloween centerpieces,  then you will love making this crayon-drip pumpkin project.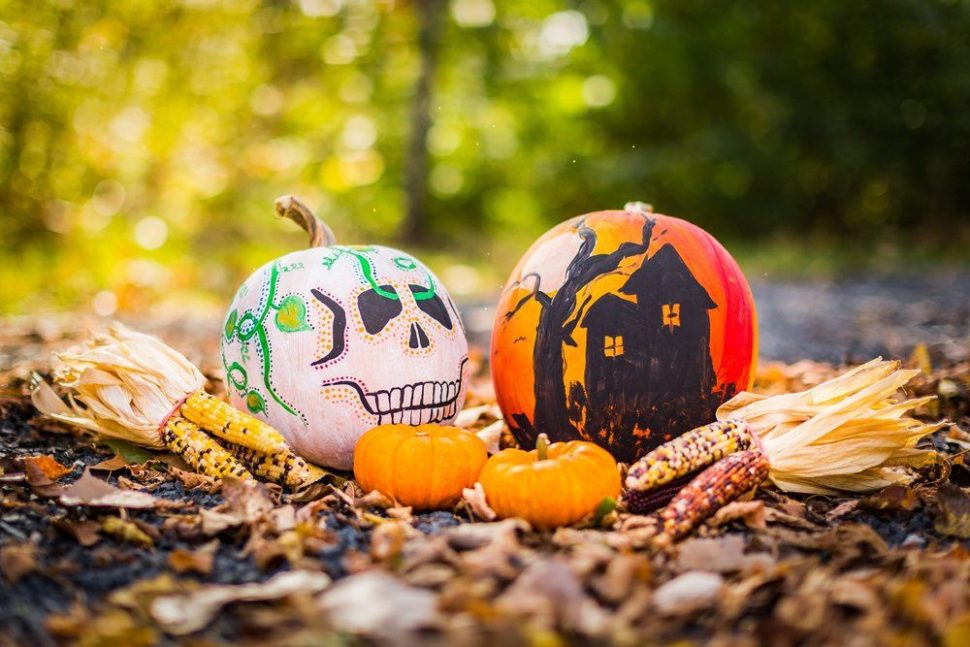 If you love a good Halloween DIY, then you'll love these creative pumpkin painting ideas that don't require any of the cleanups that follow traditional pumpkin carving. This October, brighten up your house, doorstep with bold no-carve painted pumpkin designs, and those trick-or-treaters won't know what hit 'em.
Collection of Spooky Pumpkin Painting Designs for this Halloween
This year's we have got inspiration for some of the most unique and cool designs of DIY painted pumpkins for Halloween and Fall. Set a bewitching scene inside or out with jack-o'-lanterns in whimsical, easy-to-paint designs on Pumpkins.
Cute n Easy Pumpkin Painted Designs for Autumn
If you are running out of time to carve a cool pumpkin design which may be a messy business at times. Save yourself the time and stress with one of these inspired painting ideas, which are creative and add a stunning look to your decor.
Beautiful Pumpkin Painted Designs to Decorate Your House In Halloween/Fall
Recommended for You
How to Make DIY Paper Pumpkin Crafts
Most Amazing Halloween Pumpkin Designs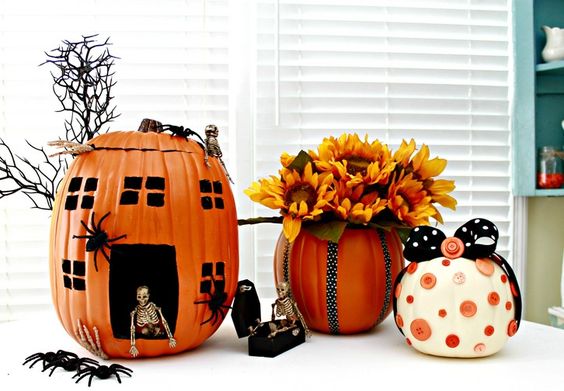 This autumn you can make your own pumpkins from styrofoam and decorate them in unique and interesting ways.
We have got you a host of amazing and informative tutorials, that would naturally inspire you to have a whole lot of ideas in your kitty to make decorative pumpkins for Halloween and Fall.
[Read: How to Make Paper Pumpkins]
Interesting Ways to Make DIY Styrofoam Pumpkins for this Halloween/Fall
I'd love to see what fun you create, tell me about it in the comments section below. Happy crafting!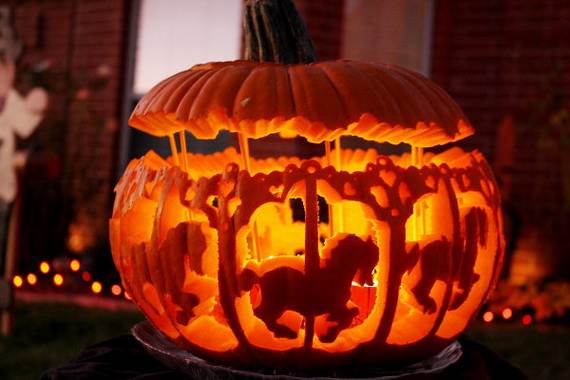 Halloween or Hallowe'en (a contraction of All Hallows' Evening), also known as Allhalloween, All Hallows' Eve, or All Saints' Eve! This day is observed on the 31st of October in many countries around the world.
This Halloween 2018 decorate your pumpkins in most creative, unique and fun way and scare your friends and family! Sharing some of the Best Halloween Pumpkin Designs & Ideas for you to get inspired from! Greet trick-or-treaters and have a spooky, creepy and fun Halloween with these simple, easy-to-carve pumpkin ideas.
[Also Read: How to Make Paper Pumpkin Craft Ideas]
Collection of Cool & Creative Halloween Pumpkin Designs and Ideas for this Season(2017)
Amazing Easy Pumpkin Designs, Images, and Ideas to Decorate this Halloween
Pictures of Funny Simple Pumpkin Designs and Carvings for this Halloween
[Also Read: Free Halloween Table Runner Patterns]