10 Interesting Paracord Rifle Sling Patterns | Tutorials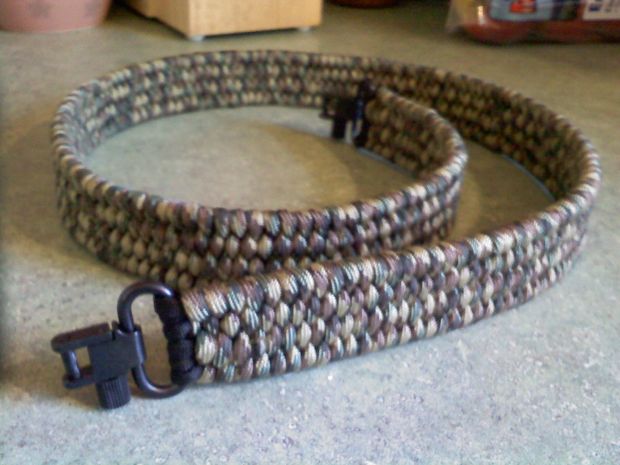 We have done a lot of paracord projects from lanyards, paracord wallets, watch bands and more. Time to explore more crafts that can be done with paracord. Paracord sling for your rifle or shotgun is always recommended.
Why not make one yourself instead of buying it. In this article, we get you tutorials which show you how to make creative and easy paracord rifle sling pattern. A lot of weaving techniques like king cobra, double and triple cobra weave patterns are discussed in these tutorials.
Compilation of DIY How to Make a Paracord Rifle Sling Tutorials
Paracord slings are quite useful and a necessity while hunting. Using 550 paracords of 2 colors is a great idea if you want to make a handmade survival gear out of paracord as your new project.

Make this paracord rifle sling using double cobra stitch with 550 paracords. 550 Paracords are quite strong and durable and it takes a lot of pressure and pulling to snap a paracord in two.

This adjustable rifle sling made from paracord easy to use, comfortable, and durable rifle are a necessity for all hunters on the go. Using 2 colors of paracords will be easy to weave and trendy to look! Time to accessorize your guns and rifles with stylish paracord slings.

Make a paracord stitch with double cobra stitch, which is one of the easiest and common patterns used by shooters and hunters. In this Video instruction, you learn how to finish a double cobra weave shotgun/rifle sling. 

Make your own paracord sling for your rifle with this simple braiding technique. It's an easy tutorial, quick to make if you don't have much time in hand.

Whether you're a beginner or an expert paracord lover, we have a great design for you. Time to weave your own sling in colors of your choice!

Single point rifle slings are always the preferred choice of slings for defensive rifles because they give you the ability to quickly transition to your sidearm, or go hands-free for whatever reason. Using black paracord is an all-time favorite for rifle slings as it gives that classic look.

The black and camo colored paracords used in this sling give it a military look. A handmade rifle sling is a special one! Time to show off it around your rifle.

This tactical paracord rifle sling is made using a quick release sinnet knot.

Make this extra wide paracord sling for your rifle using the triple cobra stitch pattern.

If like me you have a rifle without sling swivels and don't wish to alter the gun, here's a simple solution to adding a sling. It's an affordable homemade paracord project as the paracord costs less than $1.

This video demonstrates how to make an extra wide (XL) heavy-duty paracord sling for your rifle or shotgun with 550 cord using the triple cobra weave method. Using this step by step guide this sling takes around 3 or 4 hours and the end product is well worth time and effort. Not only does this make a durable rifle sling but it's also a great way to carry around 180 feet of paracord with you as a survival tool.

This braided paracord strap is light-weighted but strong enough to carry your rifle/shotgun! With its metallic buckles and leather patch , t is a unique and smart design to carry outdoors.

This sling design made from parachute cord doesn't ride on your neck and is more comfortable than a standard one point sling.

A two (2) point rifle sling made with camo colored paracord so that it doesn't look dirty when outdoors. It's the most popular and universal rifle sling design that is made by paracord lovers.

The length of the paracord sling/belt made for the rifle is around 80 feet, however, you can weave some extra cord as per your needs.

You need some 100 ft of paracord to make this convertible sling for your rifle. An ideal choice which is convenient for outdoor hunting.
Wrap these cool handmade paracord slings around your rifle with patterns of your choice.
Leave a comment