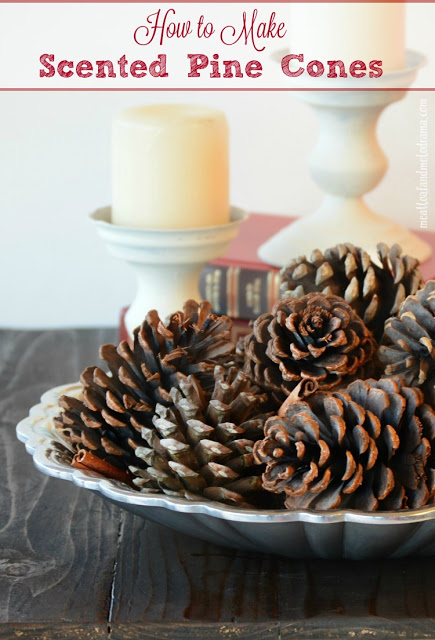 Scented pinecones are a natural way to freshen up the air during the winter months and holiday season! Unlike strong artificially scented pine cones sold in the local stores that can trigger asthma attacks or migraine headaches, for many people, homemade pine cones are safer and natural.
They also make a great personalized gift to your loved ones and for personal use as well. They make your home smell spicy and cozy!
They can be easily modified through DIY and suited for individual needs. Here we have for you a list of recipes to make decorative and amazingly scented pine cones. This is one of those easy Holiday craft projects that fit into any budget.
Things Needed for the DIY Project
Pine Cones (foraged or bought)
Essential oils of your choice
Plastic spray bottle
Ziplock bag
If you are collecting pinecones from nature they are probably full of dirt and critters. Be sure to clean and dry them properly before use, to keep uninvited dirt away.
10 DIYs – How to Make Your Own Scented Pine Cones at Home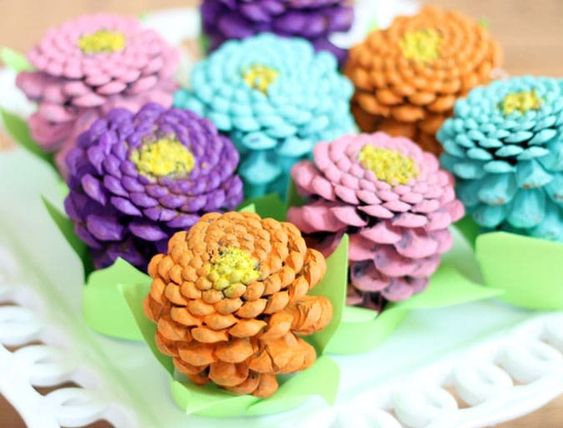 Pine cones crafts is a wonderful way to make ornaments, centerpieces, and wreaths, especially during the holiday season. They are easily available and make unique and inexpensive crafts and are amazing for creating Christmas tree toppers and garlands too. This Fall you can make your own handmade flowers with pine cones and use them as decorations, arrange them as a bouquet or even use them on wreaths. Painting them with different colors and adorning them with glitters, ribbons will add to the faux flower charm.
We have rounded up some DIYs which will help you in making pine cone flowers with step-by-step instructions. The project needs very basic supplies like pine cones, paints, glitters and a cutter to cut the base of the pinecone depending on your design.
20 Tutorials to Make Pine Cone Flowers at Home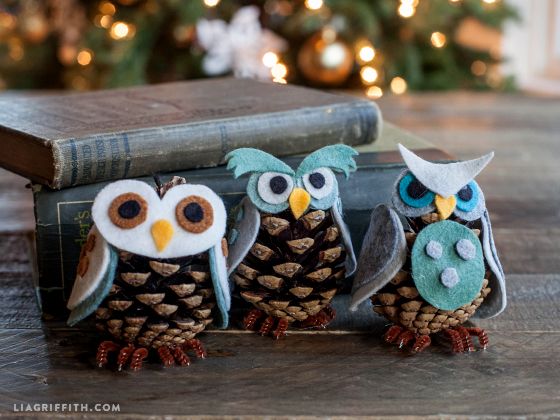 We all love pinecone crafts. Let's explore the different ways of making pine cone owl and owl babies on your own. You can use the wonderful owl ornaments to decorate your Christmas Trees or as showpieces. They make great gifts for friends and family and are affordable too. Channelise your creative skills and recycle ordinary pine cones into amazing owls! You may need pine cones, felt, googly eyes, some paint, and cotton to make this craft!
How to Make Homemade Pinecone Owls Crafts with Instructions
Whooo's got, crafty kids? Keep their little hands occupied this holiday season with this fun and easy tutorial and step-by-step instructions. I just love those little-felt faces! They make adorable gift items in the festive season!

 

If you have large pinecones in your backyard, then time to make some beautiful ornaments for the festive season. To make this beautiful owls all you need is some pine cones, colored feathers, and googly eyes.

 

These adorable owl ornaments are made from pinecone and felt! They make amazing showpieces and is an easy and rustic craft idea for autumn!

 

Making pine cone owls is a fun autumn craft for kids. You can combine this craft with a nature hike to find the pine cones, acorn cups, and leaves used in the activity. You paint the eyes made of acorn tops and attach candy corns for the nose and talons.

 

Try turning pinecones into owls! Not only will you and the little ones have a "hoot," it's also a great way to explore nature and create fine motor skills.

 

Crafting with natural materials is fun. Bring a bit of the outdoors inside with these darling Pinecone Owls. A fun crating idea for kids too.

 

This is one of the favorite designs to make own ornaments from pine cones and felt. You need to cut out the head, eyes, and wings and stick them to the pine cones.

 

Follow the simple instructions to make these quirky owls from pinecone.

 

This cute little pinecone owl captures the whimsy excitement of the holiday season!

 

Free Pine Cone Owls Template

There are three types of owl designs which can be printed and cut out to stick on the pine cones. Make your owl ornaments in no time with kids!

 

We hope you liked the designs and templates and you will surely go in your garden to hunt for the fallen pine cones. Turn them into unique owl ornaments and decor pieces this fall!