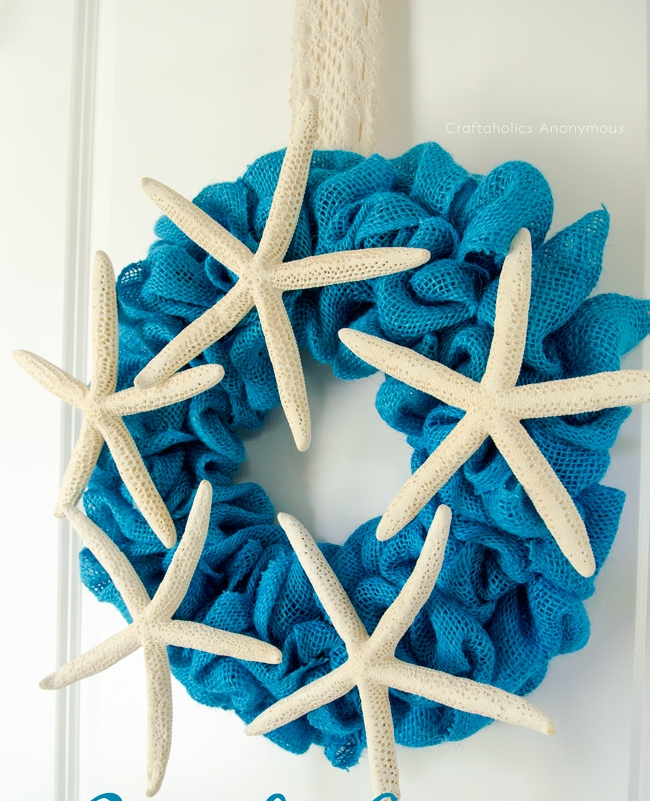 Making your own burlap wreath will quadruple the joy this season. You may be thinking that how are you going to make these burlap wreaths. These easy tutorials on how to make a burlap wreath will provide you a step by step guide to create something that is interesting and beautiful.
List of DIY Burlap Wreath Patterns with Step-by-Step Instructions
Adopt an eco-friendly environmentally sustainable approach this Christmas by using an innovative burlap wreath.
If you can't wait for the Christmas to come to satisfy your wreath fascination, then start by a fall wreath.
Making a burlap wreath for your door is extremely easy.
These add a bit of fun to your door. Follow the step-by-step instructions and you are ready with your ruffled burlap wreath.
Okay, these look amazing! They are tidy and add an elegant factor to your decorations.
These sunflower wreaths are ideal for the spring season. What can be more spring and summer put together than a sunflower?
It's time to get creative. Spring is here and so are marvelous craft ideas. Make these burlap wreaths colorful to welcome spring.
Pumpkin and Halloween go hand in hand. So it is natural that you are going to make a pumpkin-inspired burlap wreath this Halloween. Hang them on your windows and make this ruffled orange wreath with burlap.
Autumn is the prelude to the changing season. Welcome winter with a decorative wreath for autumn decorated with flowers and leaves!
These bubble burlap wreaths will create the most stunning appearance for your front door. Just wait and take pleasure in the awe of your guests.
Create these burlap wreaths to celebrate your country and show your patriotism.
Get some ideas by following the tutorials and make these wreaths as spooky as it is possible. It's Halloween, go nuts with burlap strips.
Burlap and lace make a fantastic combination. You can make homemade burlap and lace wreath, just by following the instructions in the tutorial. Adding
Christmas isn't complete without snowman and these are great as a Christmas decoration for your front door. In this video tutorial, you get a complete guide!
Decorate your wreath with the summer in your mind. Summer is all about bright and light colors like white so design accordingly.
Celebrate summer with these burlap beach wreaths, and you will be amazed by a number of compliments you will get.
The burlap front door wreaths are ideal for designing the front door so that it presents a welcoming atmosphere for the guests when they arrive.
Combine burlap with grapevines and you will have a perfect wreath to pay homage to the earth and the surroundings. Ah! The beauty that lies in this wreath's simplicity is commendable.
Check more driftwood wreath designs here
Ribbons are festive in itself. Putting them on your burlap wreath will add to its festive glory. You can use satin ribbons to add the shine against the matte and dull texture of burlap. Adding alphabets will help you customize it as given in the image!
To add a bit more of rustic quotient to your wreath use earthy toned items to decorate the wreaths like dry twigs, wooden items, etc. Follow the guide to make your own rustic burlap wreath and hang them on their front door.
Support the military with these wreaths. It is a nice gesture on your part to remember the fallen and pay respect to the ones fighting overseas with these wreaths.
Create a colorful and decorative reindeer wreath using burlap fabric. So get down and surprise your kids with a Rudolph hanging on their front door.
These are the simplest and the easiest burlap wreath ideas. Follow the instructions and you will have a wonderful piece of a wreath to hand on your front door.
Using wires to support the burlap fabric gives an added strength to the wreath.
Burlap and mesh go like salt and pepper. When you combine these two fabrics you get a superb wreath at your disposal.
This valentine's day surprise your loved one with a heart-shaped burlap wreath up on your door.
These burlap wreaths will be a perfect addition to your front door décor. Follow this DIY Burlap Wreath tutorial and you will be able to make your own burlap garland wreath.
Foam also provides a good support for the burlap to be decorated on. The porous nature of the foam allows you to pin in the burlap easily. Making these beautiful wreaths for Thanksgiving will be a great holiday burlap craft to indulge in.
So, why wait? Get down and make your own burlap wreaths that will stun anyone passing by your house.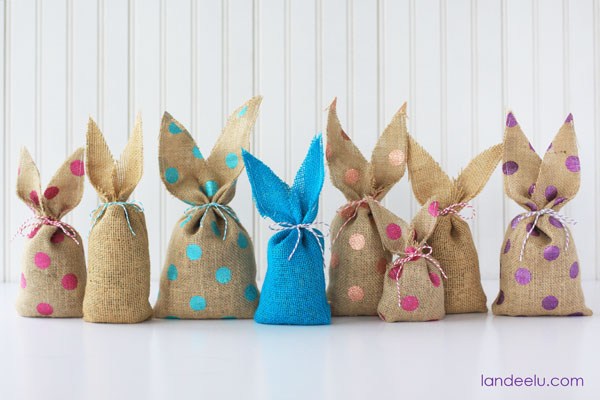 Having a burlap bag as a fashion accessory has been quite promoted. Even you may have one in your closet. These eco-friendly fashion items have become a trend among the millennials. It's rustic, earthy look and versatility have made it an ultimate piece of handicraft to go with your casual outfits. Now setting aside the obvious use of burlap, have you ever thought that this burlap can be used for making gift bags as well? It may come as a surprise to you, but burlaps are great for making gift bags and you would be amazed to know the numerous styles of gift bags that you can make with burlap.
Move over from your plastic gift bags and wrappers, it's a new era now, and new era certainly demands new items loaded with creativity. Burlap gift bags fit exactly into the criteria. Plastic gift bags and wrappers are not at all eco-friendly, even an environmentalist will protest against paper wrappers and bags, so the best option to go for, is burlaps. These are easily decomposable as burlap is a fabric made from jute and frankly, they come cheap. Now, how to make gift bags out of burlap? Don't wonder, because, there are several burlap gift bag patterns that are easy, quick and simple to make. Here are some DIY that will provide you step by step guide to make different easy styles of burlap gift bags.
Collection of How to Make DIY Burlap Gift Bag Tutorials
Now, if you have ever carried gifts in your life, and it's suspected that you had, you would know what benefit a gift bag with handles serve. Put your gift in the bag and just carry them to your invitation. No need to hold them this way or that way; no worry of dropping the expensive gift that you've bought. With handles everything is perfect.
As it has been the case, quite often, you may have bought some amazing crystal curio to gift your loved one. This beautiful showpiece deserves the perfect gift bag to match its flawless design. The burlap gift bags generally come in large sizes, so what options do you have? Make your own. Just get the measurements right and make your own burlap gift bag to go with the gift that you have bought.
Large burlap gift bags give you the opportunity to carry that lovely vase or wall clock into the party. These large bags will provide a nice cover for the huge gift that you are carrying. Make sure that you have enough burlap fabric to create this bag which can be used for gifting wine bottles and more.
These are perfect for carrying jewelry. Whether you are planning to gift it to your wife or partner or you are giving it to your loved one, these mini sized bags will perfectly encapsulate the jewelry box, adding another level of gravity to the gift. This tutorial is about keeping all kinds of fabulous treats in this mini Halloween Burlap Bag
Now that you have got yourself covered with the tutorials of large, small and mini burlap gift bags, it is natural that the next in line is a medium burlap gift bag. These are perfect for carrying clothes to gift someone. These are not as big as the large ones that the gift will look small and odd inside the bag neither re these so small that the gift won't even fit inside the. The medium burlap gift bags are of the perfect size.
These are perfect as thank you gifts for the guests at your children's party. Moving away from the boring old plastic goody bags, these are a welcome change. Draw on some Disney princesses or superhero to bring out the smile in your little guests.
Why not make your wedding or your bridal shower a little bit more precious? You maybe are planning to use favor bags for your wedding, instead of using the conventional paper bags, use burlap and surprise the guest. Color them and design them with laces to make it more intimate.
Candies are something that everyone likes, especially during Halloween. So why not make it a little bit more interesting by putting them in small burlap sacks and designing them with spooky Halloween themed designs? You can also put some candies in decorated burlap sacks and present them to someone on to make them feel special.
These are amazing! Drawstring bags are just cool in itself, add to it burlap and you have a winner in your hand. Use decorated strings to add that touch of perfection to the bags.
This eco-friendly alternative will make you the talking point at the party, if you feel like it, then get creative and decorate the bags, otherwise. These burlap bags are amazing in itself.
Christmas is perhaps the only time in the year when you buy an innumerable amount of gifts. With gifts comes the headache of wrapping them. Let's say you have a solution here. Burlap bags are perfect for your gifts. Create your own Christmas burlap gift bags by decorating them with Christmas motifs and colors. And to add that little bit of holiday joy, customize each bag according to the person you are gifting to.
Creativity makes a huge difference. Want proof? Then look at these burlap bags which have been made combining lace with burlap fabric. The intricate designs of the lace are a direct contrast to the robust, blunt design of the burlap fabric. And that is what makes them so beautiful.
Why waste you time in sewing when you have glue in your desk drawer. These burlap bags are the easiest to make. Just have a hot glue gun or any glue, a piece of burlap fabric and some strings, you have completed about eighty percent of your bag.
14. Burlap Gift Bags With Wooden Handles
The wooden handles are multipurpose. First, they make these bags look amazing. Then these handles add a touch of elegance to the bags. Adding in the endurance factor to the bags, the wooden handles make them easily reusable, enhancing their lifetime by years.
Who doesn't like personalized items? Personalized items make a person feel intimate and loved. That person knows that you have taken out the time to make something that is unique and exclusive. Make someone feel special by creating a burlap gift bag that is personalized for that person only. You can draw initials, print pictures or stick photos. The ideas are in abundance but make something close to that person's heart.
If it is that time of the year when you are planning to go hunt for chocolate eggs in the garden, then make this year memorable. Put the eggs in small burlap sacks in the shape of bunnies and place them around the garden. All you need are colors, fabric and a lot of fun.
A burlap gift bag does not mean that you have to keep them drab and boring. Decorate them as per your liking. Color them, use sparkles, stencils, stones, stickers, anything and everything. Just go nuts. You can never go wrong when you are crafty.
Kids are excited on all occasion. So make your burlap gift bag or a small burlap pouch look fun. You can also color them in either blue or pink or even a gender neutral color like yellow. Draw some baby pictures or cartoons on the bag to make it look interesting.
The best thing about handmade burlap gift bags is that you can make them to your liking. Take the measurement of the gift and make a perfect bag that fits your gift like a glove.
Now that you have a thorough idea about these gift bags, treat bags, pouches made of burlap get to business and make some great burlap gift bags to astonish your families and friends on their birthday, wedding etc.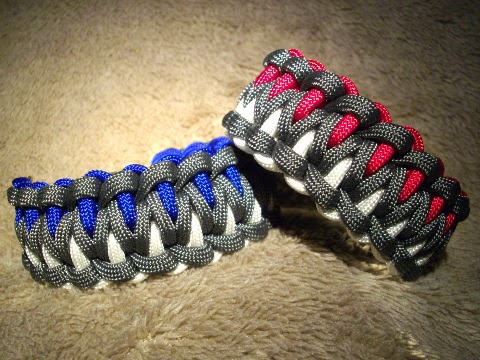 Paracord, which is also known as parachute cord, is a kind of rope with a keen core and outer mantle mainly used in parachutes in case of emergencies. They are not only fun projects to make but are also with a sporty appearance.
The DIY paracord bracelets have different designs. You can even modify these patterns with different kind of stitches.
Paracord bracelets can be with a buckle or even without a buckle. In this post, you will also learn different types of DIY Paracord Bracelet Patterns like the viper weave, cobra weave and much more which are simple and fun to make with instructions in the tutorials.
Here are 17 DIY Paracord Bracelet Patterns Tutorials with Step-by-Step Instructions:
Your day is going to get even better with these Viper Paracord bracelets when friends would ogle at them. So go ahead and make them. You can use any other color with black to get a look of your choice.
Chill and trendy have joined hands to bring you this black mamba paracord bracelet pattern which is a slight modification of the Viper pattern. This one is easy to make once you make the Viper. This is also known as Cobra over Fishtail Paracord Bracelet.
Do you love fishtail braids? I know you love it and this is certainly the one for you. No matter how many exotic markets you travel to the ones made by your own hands will always be more enticing.
For all those seeking adventure out there, this is a must-have on your next trip. Not only useful but also fashionable, you will definitely adore this.
Make your vacay that much cool with these bracelets with latest designs. They are extremely easy to make with this tutorial.
This gives a rugged look and is extremely handy. These cool-girl-must-haves depict a strong weaving pattern.
You must be wondering how to make a paracord bracelet without buckle? This bracelet without a buckle will make an outfit on point. Stay on top of the ongoing trends with this bracelet. Make it with dark colors to look bold and beautiful.
Summer is about having endless fun with your friends and family. So go out in your chic outfits sporting these bracelets. The buckle gives an additional paracord look apart from the firm weave.
Multiple snake knots when weaved together from this beautiful bracelet. Wearing the right jewelry is very important to highlight your overall look so choose the color of the paracords accordingly.
These bracelets would last a lifetime. Its like one-time investment your leisure time and you own them forever. 
Fashion is not always a huge investment. With just a meager amount of money, you can make such a trendy bracelet along with this informative free tutorial by your side.
There are some who always look up-to-date no matter what the occasion is but that doesn't mean a costly dress or a high budgeted piece of jewelry. You can update your look just with your casuals and a trendy bracelet like this.
For most of you out there assembling the perfect outfit may take hours but with this wide paracord bracelet, you can get a statement look in these small steps shown in the tutorial.
All those trend-conscious people out there, you know that fashion is best defined as cyclical.  These macramé paracord bracelets are back in trend and you know what, you can make them all by yourself by just following this tutorial.
Nothing can be more classic that this bracelet with three colors. You can obviously use colors of your choice. Fashion is nothing but expressing your own thoughts. This bracelet pattern is known as the Northern Spikes.
After making a basic paracord from the above types you can modify it with some stitches. You will get a detailed explanation in the following tutorial.
The sawtooth paracord bracelet looks very trendy when made with a darker color like black and contrasting it with a very bright color, similar to the one shown in the tutorial.
So, enjoy making all these 17 DIY paracord bracelets. Have fun. Stay trendy.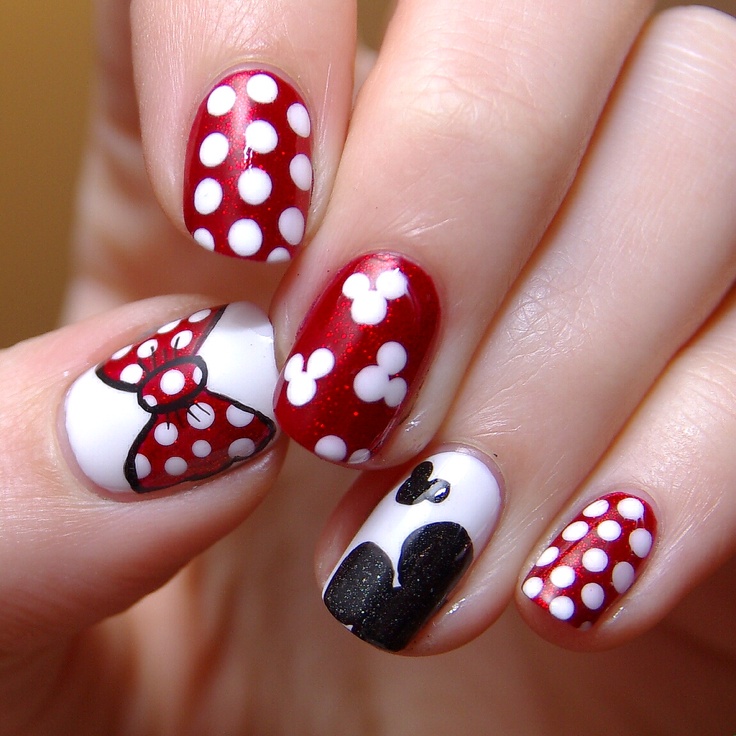 Are you obsessed with gel nail designs? Then you must be in search of new quirky designs all the time? If yes, then you have come exactly to the right place to replenish your store of ideas and if you haven't tried gel nail designs yet then please do try at once. Here I have provided you with some gel nail designs tutorials that will guide you to achieve the perfectly painted nails for that glamorous evening party.
Compilation of 40 Beautiful Gel Nail Designs and Gel Nail Art Ideas
1. Purple Gel Nail Designs
Are you a fan of the dark purple color? Purple reflects the passion and is a royal color and here are some luxurious gel nail designs and ideas for you.
2. Short Gel Nail Art Designs
Are you worrying about the fact that you have short nails so you cannot so the beautiful gel nail designs? Then this tutorial will prove you wrong.
3. Easy Gel Nail Designs
You do not need an elaborate design to make your nails look beautiful. These easy gel nail designs are equally attractive.
4. Simple Gel Nail Designs
Are you a newbie in the art of gel nail designs? You have nothing to worry with these simple tutorials which will be a cakewalk for you.
5. Gel Nail Polish Designs
Show off your manicured nails with this beautiful design and it will be a matter of minutes with this awesome step by step gel nail design.
6. Summer Gel Nail Designs
Flaunt your nails this summer with these chic gel nail designs that are so colorful and easy. All these designs will perfectly match your summer outfits.
7. Gel Nail Design
The gel nail design in this tutorial is a very intricate one and will leave everyone in awe.
8. Cute Gel Nail Designs
All the beautiful girls out there, these cute gel nail designs are exclusively for you.
9. Spring Gel Nail Designs
Embrace spring with open arms with these gel nail designs. Wear that new dress of yours and put on a new gel nail design and enjoy your perfect spring outing.
10. Black Gel Nail Designs
If black is the color that dominates your wardrobe then you must check these black gel nail designs that would go perfectly with your outfits.
10. Fall Gel Nail Designs
Get fall ready with these beautiful and trendy gel nail designs. Don't sit inside your house on such a cozy fall evening and go out with your friends all dressed up and flaunt your gel nail designs.
11. Awesome Gel Nail Designs
Get ready for that perfect dinner date and dress up your nails too!
13. Popular Gel Nail Designs
Stop ogling at the beautiful nails of the girl sitting next to you and turn your nails into the most beautiful ones that will make anyone look twice with these gel nail designs.
14. Pink Gel Nail Designs
Be the glam girl with these stunning pink gel nail designs.
15. White Gel Nail Designs
White gel nail designs look classic and serene. So check out these designs and try them now!
16. Gel Nail Designs with Rhinestones
Do you love rhinestone? Then why not try them on your gel nail designs and these ideas will help you decide which one to try.
17. Powder Gel Nail Designs
Look flawless on the next family occasion with these stunning designs that will blow everyone's mind.
18. Gel Nail Designs for Wedding
Dazzle up your nails and show off your ring finger with these super gel nail designs. Look chic on your wedding day.
19. Christmas Gel Nail Designs
I know you must have arranged all your candy canes in place and set up your Christmas tree but have you painted your nails? If not, then hurry up and paint your nails in these beautiful Christmas themed gel nail designs.
20. Rainbow Gel Nail Design
Accent your nails in a discreet way with this rainbow gel nail design. You can also add confetti to bring about that extra bling.
21. Neon Gel Nail Designs
 Get the bright chic look with the neon gel nail designs that are so much in vogue.
22. French Tip Gel Nail Designs
Show off the bling on your freshly done French tips in front of your friends.
23. Blue Gel Nail Designs
Find the perfect shades of blue for your nails and flaunt you sparkly nails.
24. Yellow Gel Nail Designs
Yellow is the color of the summer. So try these adorable designs which are stylish and smart.
25. Orange Gel Nail Designs
All the manicure lovers out there can try these peppy orange gel nail designs to look stunning on a bright sunny day.
26. Gel Disney Nail Designs
Get back to your childhood days with this Disney gel nail design and it is a versatile one so you can try with any of your casual outfits.
27. Glitter Gel Nail Designs
If you want a rich texture on your nails, then glitter gel nail designs are the best for you.
28. Funky Gel Nail Designs
All the women out there who prefer funky designs over a subtle one, here are the best funky and chic designs you will ever get.
29. Halloween Gel Nail Designs
Get spooky this Fall and Halloween with these gel nail designs that will perfectly complement your Halloween outfit.
30. Valentine Gel Nail Designs
Look pretty on your perfect date on the day of love with these hot gel nail designs for your valentine!
31. Winter Gel Nail Designs
Sparkle up your winter with these funky and cute gel nail designs.
32. Bright Gel Nail Designs
Get the sexy summer nails you have always wanted with these bright gel nail designs.
33. Classy Gel Nail Designs
Be the trendsetter in these classy gel nail designs.
 34. Gold Design Gel Nail Designs for Fall
The cute design of this gold and white gel nail design is super easy and trendy too.
35. Unique Design Gel Nails
Quirky and incredible, these gel nail designs, which look strikingly beautiful with all your outfits.
26. Snowflake Gel Nail Designs
The snowflake gel nail designs give an additional Christmas feeling to your outfit.
37. Zebra Gel Nail Designs
The Zebra gel nail design is a gorgeous accessory in itself to match your outfits.
38. 3D Gel Nail Art Designs
The 3D gel nail art ideas give a sophisticated look to your beautiful nails.
 29. Girly Gel Nail Designs
The girly gel nail designs in this tutorial are perfect for both women and young girls.
40. Hello Kitty Gel Nail Designs
The hello kitty gel nail designs are probably the cutest designs for your nails.
So, here are 40 amazing and stunning gel nail ideas and designs for you to try. From simple swirling designs to gold adornments, everything is given in the tutorials. So start planning your next ensemble on your day out and paint your nails accordingly.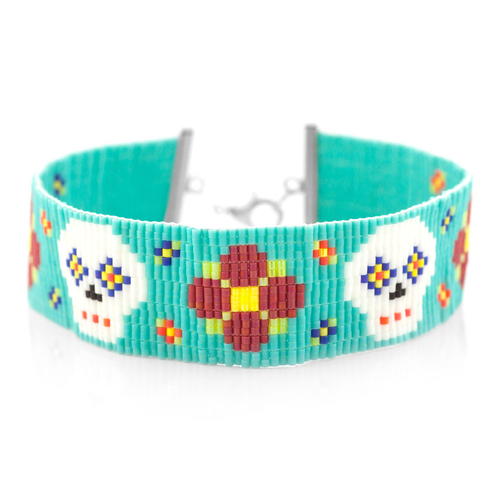 Nothing can be easier than making a beaded bracelet. You can string together a variety of pearls, acrylic beads, glass beads or anything of your choice for a simply tasteful and stylish beaded bracelet. You can not only make them single-stranded but also multi-stranded. They can be made by people of all ages. The color is regarded as one of the most utilitarian and influential tools to highlight your DIY Jewelry. People reciprocate to different colors in widely different ways. Some colors can make them feel better, calm, de-stressed and instill a touch of exuberance into their lives. You can also try making Stardust Bracelets DIY,  Seashell Bracelets, or Unique Bullet Bracelets.
List of DIY Bead Bracelet Patterns and Tutorials with Step-by-Step Instructions
Seed bead bracelets are an all time favorite and they can even give a vintage look. A seed bead is usually a small bead which is round in shape.
You can make them out of single colored beads or even give a patterned outlook like the one shown in the link provided. A handmade accessory is always special and will get you tons of compliments!
You can make them with beads and embroidery threads of different colors of your choice. Crimp beads can be used as an easy alternative to normal beads.
Bead looming is a conventional Native American art form. This is the best gift for those who love conventional art.
Everyone loves flowers and when it comes to beading bracelets, flower beads allure all. Here you will learn the Tibetan style flower bead bracelet. You can use a thin wire and bead it with colorful stones!
The peyote stitch is also known as the gourd stitch and it is easier than you think. If you are planning to make something out of the way for your friend or for that special someone then go ahead and check the link.
Pony beads always bring back childhood memories. So why not dig up your box of pony beads and use them to make something innovative.
Macramé bracelet patterns add a give a bohemian touch to your look. Macramé knotting, when applied with beads, gives the most stylish look.
Hemp bracelets with beads are easy to make and you can use glass beads or even acrylic beads in place of pearl beads.
Who doesn't love crocheting right? So go ahead and crochet a bracelet along with beads in them.
These bracelets are perfect for that special man in your life. Surprise him with your creative skills by making these beaded bracelets. You can use elastic strings instead of normal thread so that the bracelet is strechable as per the wrist size!
You can replace pink leather with a darker color to achieve a bold look. On the other hand, this sweet pink leather is a must-have in your accessory collection.
Kumihimo is actually a traditional form of Japanese braid-making. Instead of the jade beads, you can use beads of your choice. They look amazing when wrapped around your wrist!
Braided bracelets when worn singly give a simple look but when worn as a set of 5-6 bracelets provide a statement look.
Native American bracelets have their own traditional and a statement look. They are easy to make and yet appear ultra-modern.
This glass bead bracelet pattern is a bit different from the others but the detailed instruction provided will surely help you out. 
Bugle beads are itself different from other types of beads. This bugle bead bracelet can be worn with casuals t give a chic look. 
This bracelet pattern is easy and does not require much effort but gives a very sophisticated outcome. This bracelet would go well with your everyday-wear.
The woven beaded bracelet is eye-catching and it will highlight your outlook. An amazing DIY ideas with step-by-step instructions on how to make your own bracelet!
Perler bead bracelets are an impeccable piece of jewelry. Its colorful beads will give you a sparkling look.
Gift your friends this friendship bracelet and make them happy and impress them with your creative skills.
This unusual stringing technique is not at all difficult with such a good tutorial. Enjoy making and flaunting such a different kind of bracelet made with small beads.
This pearl bracelet is gorgeous and classy. You can flaunt it with your evening wear.
This crystal bead bracelet has its own charms. You can use multicolored crystal beads and this bracelet would be an eye-catcher.
This bracelet will perfectly complement your western as well as ethnic outfits. You can use colors of choice which will be in accordance with your outfit. The red, white and green combination makes it perfect for Christmas!
This bracelet will accentuate your feminity and perfectly complement your autumn wear.
This beautiful bracelet will add a modern look to any ensemble and deliver a dose of vivid style to your look in one easy step.
Add a dash of glamor to your overall look with this red cuff bracelet. It is easy to make with such a superb tutorial.
Embrace your beauty and highlight your pretty appearance by wearing this bracelet featuring an exquisite design. The bugle beads are an added charm.
Make a trendy update of your chic casual outfit to look even prettier than before by wearing this zigzag beaded bracelet. So go ahead and make it.
Take the fashion world by a squall and make the rest follow your style as you strut by with these waves patterned bracelets.
Cruise through the fashion world with wearing this daisy bead bracelet meant for a fashion-forward woman. Make it as colorful as you want by altering bead colors of your choice.
Get in touch with your feminine side with this simple and sleek bracelet. It is easy to make and worth investing your time in.
 So shun the shackles of bygone fashion and make these on your own DIY Beaded Bracelets and flaunt them in style.
Do you get confused between your keys or worst – lose them when kept single? Then why not make for yourself a cool and unique keychain. Nurture your mind with these DIY ideas to bring out the best in you. If you don't know how to make them, this collection of tutorials will prove to be the best step-by-step guide to show how to make DIY Keychains. Happy crafting!
Collection of Amazing DIY Keychain Tutorials and Designs
Paracords will always remind you of bracelets but it is amazing how they can be employed to make such a cute little thing! For all the travel enthusiasts this keychain tutorial will be perfect. Apart from this, these paracord miniature men are so cute.
Photos are wonderful reminders of the happy times we have the lead. So why not gift a loved one a photo keychain so that every time they use it they would be reminded of that beautiful moment or maybe a special person?
Learn how to make your personalized leather keychain and what would be best as a gift for a loved one than this? The stitching procedures are so vividly shown that you will find it extremely easy. Gift this to your daddy on the next Father's Day and take him by surprise with your excellent work.
You just need wooden beads for this project. Nothing to worry if you don't get the colorful ones in the market, buy the normal ones and paint them yourself and then just string them together as shown in the tutorial. 
Do you have old golf balls lying around in your house? If you don't have golf balls then even ping-pong balls would do. Just give them a makeover and turn them into Teenage Mutant Ninja Turtle and surprise your little one with it. It will be perfect his school bag.
I know the name may sound that using LEGO figures would mean you would also need some fancy tools but no, you don't need anything. All you need is key chain rings, chains, pliers and the main attraction – LEGO figures.
The moustache is so much in vogue would be the best idea to put as a charm on the keychain when you are making it for your boyfriend. You might be thinking how to make a mustache charm, then my dear it is very easy – make it of leather. It would not only give a classy finish but also be trendy.
Pompom itself is so cute that no matter where you use it, be it earrings or key chains, it would change the overall appearance of the product. These red pompoms as shown in the tutorial are carved to portray cherries.
Make something unique on this St. Patrick's Day. How about this perler bead keychain? Isn't it so colorful? Well, it is the easiest one to make. Just buy some Perlerbeads and your keychain will be ready in 5 minutes. Follow the tutorial and bring the rainbow of colors into your life.
For this bull's eye keychain, you just need felt and a little bit of sewing and it is ready. It has a chic look but also with a touch of formality. It does not have an ornate design but is soothing to the eye in its own way. 
This wine cork keychain has an additional advantage over the others, that is, it will never sink in water. So you don't have to worry about losing your keys in a pool or anything of that sort. Just keep the wine corks in stock and put them to proper use. 
Beading is always so much fun!! So don't waste much time thinking and take a walk through the tutorial to make this beaded keychain. To top it all, put a charm at the end like icing on the cake. And it's ready – your own beaded keychain.
This ribbon keychain reminds of a very famous character from Disney. I bet you have already guessed it. Yes, it's Minnie Mouse. The polka dots are so cute. Don't you think this would be a perfect gift for your little angel to put on her school bag?
Are you passionate about making new things? Then why not try something different? This glittery keychain is the perfect Christmas gift having much resemblance with the Christmas ornaments to decorate the Christmas tree. 
So never lose your keys the next time with this vinyl keychain. It is easy to make and is so trendy. It is perfect as a gift or for yourself and it is can also be personalized with a name or anything that is special to you.
Write the name of your best friend on this leather keychain and gift him or her. It is not difficult to make but remind your friends your love for them. 
Make this fun and easy metal stamped keychain for the special ones in your life. It will take only a few minutes with this amazing tutorial to guide you along. Think of a quote or some phrase that would mean special to that person and just stamp it.
This fluffy keychain is preppy and stylish. Team it with your backpack to attain a chic look coupled with shorts and a casual top. It will be the perfect summer outfit. So go on and make this cute and unique keychain. You can attach some fruity beads to give an additional cuteness. You can also attach tassels or accessories that seems perfect to you.
These personalized keychains can be made even by the little ones. You just need to paint the wooden hearts in colors of your choice and write the name of your loved one or maybe the initials of his name. This would be a perfect Valentine's Day gift. 
This bunny keychain is overloaded with cuteness. You can use any plastic animal you like. Color it with a bright color and put in your eye pins into them and attach the keychain. Within a few minutes, your animal keychain is ready. Replace the bunny with a puppy and it would be the perfect one for the dog-lovers out there.
All those who have the hobby of collecting rocks whenever they go on camping or any vacation, don't just keep the rocks in boxes, instead make a keychain out of them. You just need some wires and the usual things that are needed. You can also attach some beads to give a touch of color.
Instead of the mesh pattern drawn on the wooden circle, you can make them look even more creative by drawing doodles. Doodling is fun and easy. So basically what you need is some wooden pieces and a creative mind and your keychain is ready!
This heart puzzle keychain is ideal for couples. You can keep one-half and give your special on the other. Show your loved one how much you cherish their presence. Unite the hearts with your love. 
It is time you clean up your wardrobe and take out all those t-shirts you don't wear anymore. Put them to good use and make this voguish keychain out of it and leave everyone awestruck at how t-shirts can be recycled to give a new form as stylish as this. Stop throwing your old clothes away and start putting them in your material list for your DIY crafts.
This emoji keychain DIY project is perfect for your little one's vacation. With a little guidance, even a preschooler can make this. So take your pegboard out and start with your summer project right away.  
Are you a music-lover? Or do you have someone in your life who is mad about music and loves to play guitar? Yes? Then you have come to the right place. Here is a tutorial for stamped metal guitar pick keychain perfect for the guitarists. It would not only keep their keys in place but also be something of a necessity when it comes to playing guitar.
 So, now that you have gone through all the 26 types of DIY keychains listed here I don't think you are going to lose your keys ever!
Don't you want to send your warm wishes to the dear one before they blow out all the candles on their birthday cake? Nothing can be better than a perfect handmade card for your loved one. Revamp the ways in which cards can be made. Take your creativity to a new level with these easy and simple DIY Birthday Cards tutorials. If you are short of quirky ideas then here I am providing you with loads of them. All you need to do is sit with all your colors, papers and all other things that are needed and just Do It Yourself!!
>> Creative DIY Business Cards Ideas <<
Collection of Awesome DIY Happy Birthday Card Tutorials with Detailed Directions
Make cute and adorable birthday cards for your loved ones and make their birthdays look special. Make loving designs and let them feel the warm feelings of your heart through handmade birthday cards.
Use your vivid imaginations and create all the cool ideas and designs that have been popping out of your head for a long time. It's time to use your creativity to put a smile on the faces of your near and dear ones.
Unique DIY Card Ideas for Him (Happy Birthday)
In today's world, it is very easy to send your birthday greetings online. You can simply wish your loved ones on Facebook or any other social networking site. But wishing all those special men in your life in person and giving them a gift which is specially made by you cannot be replaced by online greetings. It may be your father, husband, brother, boyfriend or anyone else, surprise them with a special handmade card.  So here are some cool and catchy ideas for you.
Is the birthday of that special someone around the corner? Yes? Then why don't you make this amazingly sweet birthday card for him? This is not only easy to make but also overloaded with cuteness.
Gift your dad this shirt card with the 'best dad' badge on it and make his birthday special. If you want you can even write a 'Happy Birthday' note on top. You can make this in the measurement of your choice.
Surprise your husband with a birthday card right on the morning of his birthday. I'm sure that special gift is going to make his entire day even better. It is really difficult at times to choose the perfect gift for your husband so why not make something for him.
Choosing the perfect gift for your brother can be really overwhelming but with this simple DIY card it will be easier for you to make your brother's special day even more memorable. Everyone has their own choices. But a handmade birthday card is never out of fashion.
Cute DIY Cards for Her (Tutorials)
Birthdays are a day special to every individual. Add a delight to the joyous day of your loved ones in your very own way and make them feel special. Is it your mom or your sister? Or is it your lovely wife, or the girl with whom you've had a crush for some time? Bring a smile to her lips by presenting a wonderful birthday card carved and crafted by your own hands.
Hey, how do you like the idea of presenting your love with a nice handmade card containing the memories of your time spent together? Will it not be an awesome present for a birthday surprise?
Whoever you be, your mom is the most special and loved person in your life. Shower your affections on her birthday with a beautiful birthday card with new ideas and designs. And what more, do it yourself!
Now, are you not getting enough ideas on what to give your lovely wife on her birthday? Start out by making a cool birthday card. Get creative and bring back fond memories for her. What more, you may even get ideas about the presents she had always desired but kept a secret from you.
After all the year-long fights and quarrels, you have already decided to make up amends. So is it the birthday of your sweet little sister? Do not forget to tell her how much you love and care for her. Present her with the most beautiful birthday card, and that too made by you.
 Best DIY Card Designs for Special People
Now, what about all the sweet people in your life? Are you not telling them enough how much they mean to you? Are their birthdays around the corner and you haven't thought of a nice gift?  Oh, that's rude. Wait, why not make the best greetings for them. Present them with a creative handmade birthday card and try out all your new patterns and ideas. Do it yourself!
Well, if it's your best friend on the line, you should put up your absolute best. Get going and jot down your coolest ideas. Make the best birthday card for your beloved.
Is your teacher something of a role model to you? Or do they stand out to be too cool or too nice? Send your thoughts to them by designing a cool card for their birthday. Make this day special for them.
Friends are the answers to all the problems in one's life. Make their birthdays special by giving them a nice personalized touch in a handmade birthday card. Make someone's special day even more so.
Is there a kid in your neighborhood who is just too adorable and has his birthday around the corner? Hey, no worries. Why not show your affections for him through a special birthday card designed for kids. Maybe he'll love it and love you too.
You have a cousin or a friend who's just turning 18? Well, that is a very special occasion.  Make it even more special and memorable by designing a birthday card just for the occasion. You can add new ideas and designs of your own, and make it more creatively highlighting the pros and cons of this specific b'day.
 Personalized DIY Birthday Card: Fun Tutorials
So you have a geeky friend who is too much into something? Well, this is your opportunity to show him your support by making a personalized birthday card just for the occasion. You can even make a card that is very classy or is very creative.
Make a cool Captain America birthday card for your crazy Captain America-fan friend. Add cool action sequences of this Marvel comic character and totally delight him.
Make an awesome vintage Birthday Card with all the classy ideas you have. There is an adage 'Old is Gold'. Wish someone on his/her birthday in the classic old style, but remodeled using your own ideas and designs.
Hey, what do you think of those wonderful pop-up birthday cards? They are not just a delight to look at, but a tad-bit intriguing to make. Make an awesome pop-up birthday card for your special one and share the love you have for them.
What about a variety of the pop-up card where you make a pop-up in the form of a birthday cake? Try out this cool idea and surprise your friends on their birthday. It's a very cool idea to try on anyone's special day.
Are you a little short on ideas on what to gift this year to your loved one on her birthday? Hey, what about trying out a quilling birthday card? The quillwork on birthday cards would actually look very cute and adorable. Try out this new exciting idea.
An explosion box is bound to sweep anyone off the feet. Make your beloved feel the warmth in your heart by making her a birthday explosion card box. Make this special day for her an absolutely memorable one.
DIY Cards for Hasty Moments (Easy & Quick DIY Ideas)
Do you not have enough time to gather all the requirements for making a handmade birthday card? Worry not, you can always make something that will not take up too much time.
This is just for the occasion when you do not have enough time to put in the effort to make a full-fledged birthday greetings card. Make the birthday card in just the nick of time and put a smile on the lips of your loved ones.
Are you having second thoughts about the making of the card? Are you not sure enough to bring it to completion? Well, if you are unsure about all the art-and-craft stuff, what about DIY printable birthday cards? Surprise your beloved with these printable cards and download them for free!
DIY Cool Birthday Add-Ons
Try out the various add-ons to make your birthday card all the more presentable. Create these make-and-stick designs that would totally complement your birthday card and give it a catchy look.
Does your birthday card look like it's missing something? Well, obviously, it might be. Try out adding the cool birthday card candles on them and see how exciting they would look now.
Pic Credit: LovenStamps.Com
You can add the birthday card balloons on your existing card and give them a flashy look. Balloons always bring a look of celebration in any party, and it will do the same for your special handmade birthday card.
Not only a birthday card for others, you can also design a cool birthday invitation card for your very own birthday party. Make a handmade one or devise something printable if you are going to distribute a bunch among your friends. Get cool and creative with your birthday invitation card.
All those book-lovers out there you surely know what a bookmark is but I bet you haven't ever thought that a bookmark can be so much cute and beautiful. You don't have to buy the clichéd bookmarks from the store and spending money on them but with the tutorial given for each type of bookmark, you can easily do it yourself.
Cool DIY Bookmarks Ideas
Collection Cute and Beautiful DIY Bookmarks Tutorials with a step-by-step guide for each on how to make them.
All the Potterheads will surely fall in love with this one. This one is a Gryffindor corner bookmark but just by changing the colors you can make for Ravenclaw, Hufflepuff, and Slytherin. So follow the instructions given and make this Harry Potter bookmarks your own.
Is your beloved a book-lover? Yes? Then what else is best than a heart-shaped bookmark to gift that special someone. It is creative and something that person will really love. You just need a piece of origami paper just follow the tutorial given.
These owl bookmarks are colorful and are easy to make. Next time don't waste time to find the page you left, instead, make this super easy bookmark.
Do you love vintage things? Then make a vintage bookmark as well. Buttons with a vintage look are available in all our homes.  And apart from that, you need paper clips which are even easier to get and add tassels to make it unique.
On the next Valentine's Day, gift your partner a book and this beautiful bookmark. You can even share this with your friends who would love to gift them to their partners. Just find the proper paint samples and your work is done.
All those extra clothes you have that have either become small for you or are old can be put to good use. No one can ever imagine they can be used to make bookmarks. So sot out your clothes and make a few bookmarks.
For making this bookmark, you just need colorful buttons or even the broken charms from your hairclips. So gift your younger brother or sister this pretty bookmark on their next birthday.
Instead of the kitty that is mentioned in the tutorial and is shown in the picture, you can make any other creature and it need not be printed if you want you can draw the same.
These paper bookmarks don't need many things. You can just blend colors of your choice on a piece of paper cut in your choice of size and then use a marker to write something or make a doodle.
Every girl likes cute patterned ribbons. So grab some of your choices and follow this tutorial to turn them into a bookmark. These bookmarks will even make the cover of your book look pretty.
For all those Avengers lovers, this cute and easy bookmark is a perfect choice. Girls, you can make this and gift him. All you need is popsicle sticks and some paint.
Kids love things that are catchy. From the image itself, you can see how this bookmark is an eye-candy. It will make the kid fall in love with books.
Put your imagination to work and draw as many animals you want. Just change the color of the papers used for various animals like brown for a puppy, yellow for giraffe, grey for elephant and so on.
This crochet lace bookmark is very beautiful and charming. If you don't know crocheting it won't be much difficult if you learn up the individual stitches that are used.
When emojis are in the craze, why not make emoji bookmarks? Make any of the emojis you want. If you don't want them yellow in color just change the color of the tape or paint them yourself.
Fringed leather looks trendy wherever used. It looks simple yet voguish. All you need is suede leather and some glue. The leather itself looks so classy, adding fringes make it more sophisticated.
We all know how pressed leaves are used in cards and how beautiful it looks. So why not use them in bookmarks? Give your bookmarks a touch of nature with this step-by-step tutorial.
The best thing about these elastic bookmarks is that they will never slip out of your book no matter where you carry them. It is amazing how just a few rubber bands and ribbons can give rise to such a beautiful piece of thing.
Add creativity to your life by making something new every day and this project will require only 5 minutes of your precious time. To make it even more colorful you can use paper clips of different colors preferably the bright ones.
Add a pop of color to your books with these duct tape corner bookmarks. You can make them as you like as there as so many themes available in duct tapes.
Glue is needed in almost everything you make. But out of all those, I found this bookmark very cute. Just gather some foam hearts and glue them one after the other and here it is, your bookmark is done.
Halloween means spooky decorations, pumpkin carving, and costumes. Halloween crafts will make a never-ending list. So why not make yourselves some Halloween themed bookmarks and what is better than a bat in Halloween.
Beads and charms are not only used to make jewelry but also many other things including bookmarks. Check the tutorial and flaunt it in front of your friends.
Easter ranges from making unique bonnets to decorating your own house. This Easter special bookmark will be an easy activity with the kids of your house on Easter. It's a perfect craft for preschool children as well.
What is more adorable than a crocheted bookmark! The pattern is given clearly in the tutorial. You just need to buy the yarn of your choice and get started. It does not require high skills and is extremely easy.pa
Try making this beautiful butterfly bookmark which is an absolute treat to tuck in between the pages!
These button bookmarks are the easiest of the lot. You can make them a bit more different by attaching a piece of string, to whose end you can stick another button or a paper cutting, which will project from the other end of the book.
To make this corner bookmark you only need to understand the folds and you will be able to make the bookmark in a minute. You can use patterned papers instead of solid color origami papers.
Personalized bookmarks are the best gifts. Handmade gifts always are the best in showing your love to your significant other. You can also stick photos along with the text to make it even more special and give it as party favors.
The best gifts for the special one are memories. So why not write a few lines on a handmade bookmark and turn that simple thing into something special.
This simple string bookmark will be the perfect one to make when you are in a hurry yet want something out of the box. Mark your page with these colorful book strings in between.
Minions are adorable and cute. Apart from all these, they are very expressive. So try your hand on this creative, colorful bookmark with your kids now.
Laminated bookmarks are sturdy and are not easily destroyed. You can print and paste the picture of a particular book or even pictures of special ones.
So this summer be creative and make these paper bookmarks and add some colorful element to your favourite pages.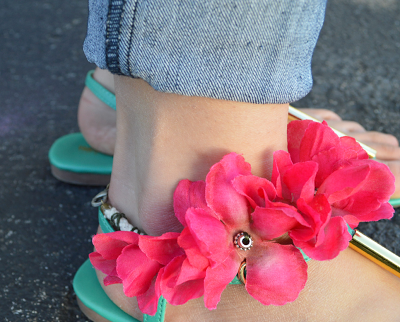 Before we used to have only gold or silver ankle bracelets but now we have such a huge variety of ankle bracelets, made of beads, various charms, pearls and are designed according to the latest trends. Ankle bracelets are also known as anklets. They look not only cool but also beautiful. So let us have a look at some of the type of DIY Ankle Bracelets tutorials and how to make them as flaunting an ankle bracelet is a trend of the season for women, men, and kids.
> Shamballa Bracelet Tutorials & Instructions <<
 >DIY Beaded Bracelet Patterns <<
How to Make Stylish Ankle Bracelet (Anklets) Designs with Step-by-Step Instructions
In these personalized bracelets, you can write anything you want, be it a particular word or someone's name, and attach it to a chain that would be of best fit. Once it's ready, wear the beautiful piece of fashion and seize the spotlight.
Leathers have always been used to give a rusty look. This leather cord bracelet will give you a rustic boho look along with a sleek appearance. You will be one with nature with this leather anklet. You can add any charm of your choice.
This bohemian ankle bracelet is the ultimate bohemian jewelry for your foot. This unique design is worn around your ankles, highlighting your beautiful feet. If you are going to the beach, this will suit you perfectly. Wear it with your beachwear to get an elegant gypsy look.
Channel your inner Boho chic with this vintage-style anklet. This anklet will transform your look to a gypsy-inspired ensemble. You can replace the beads with charms of your choice. Wear it to a beach or casual summer hangouts.
Anklets are not only worn by women but by men too. A simple anklet can make you look stylish and give a bold statement at the same. Be it leather or a simple chain, men do wear anklets. the one shown in the tutorial is a simple chain.
Upgrade any look with this subtle yet unique anklet. Instead of the sterling silver beads used, you can use colorful beads too. Made of hemp twine, it features an elegant appeal that's perfect for Boho, grunge or goth outfits. 
This beaded anklet is a simple and elegant accessory that's designed for the modern woman. It's a subtle yet stylish piece that works with almost any outfit. It's made up of pink beads.
Add subtle glamor to your everyday look with a delicate accessory. These string bracelets are delicate yet fashionable. You can either use a string of only one color or an assortment of colors.
Complete your Indian traditional look with this elegant vintage anklet. The fashion jewelry can also turn a simple look to an interesting ensemble. Relive the romance of traditional fashion combined with ghungroo to get a perfect look.
Take your style from blah to bling with this anklet and give your style statement a jump start in a few seconds. Wondering how to make these Charm Ankle Bracelets? Follow this video tutorial and make a chic piece for yourself.
Bring to each moment the needed style through this anklet which caters to your fashion needs. Tribal ankle bracelets are highly in vogue now, a common feature in them being coins, stars, the moon, etc.
Give your outfit a dose of bohemian style with these swinger ankle bracelets. In the tutorial Bead, Landing Work is used but you can use beads of your choice.
Anklets are always fun to make and even more, fun is there in flaunting them in summers. So go ahead and follow this tutorial to make this beautiful swinger ankle bracelet.
Earn an all-access pass with this ankle bracelet. It will also bring out your adventure loving personality. 
Decked with fringed fabrics all over this is a must-have in your collection. So go on and make it with this easy tutorial. 
You will definitely fall in love with this wish bracelet made out of the thread. Instead of a light color, you can use black thread to make it even more prominent.
If you don't like the gold color then use silver chains instead. The owl charm will elevate the visual appeal of this anklet. 
Cool and casual this starfish ankle bracelet will definitely grab attention. You can use colorful starfish charms instead of gold ones. Video tutorial here.
Let everyone take a peep at your vivaciousness by wearing this fashionable ankle bracelet made especially for the most fashion-conscious lady.
Painting a beautiful picture of fresh, vibrant hues and ethnicity, this macramé ankle bracelet maintains a perfect balance between sartorial elegance and ethnic grace.
Crocheting may seem complicated to you but with such a vivid tutorial it is much easier. So don't waste time and start crocheting this ankle bracelet with detailed directions.
The best thing about hemp ankle bracelets is you don't have to think about the risk of going into the water wearing them. They won't be spoiled by water. Leave them for some time and they will dry.
Don't you want to flaunt your legs by wearing a super stylish ankle bracelet on the beach this summer? So go on and make one for yourself by simply following this tutorial.
Braided ankle bracelets have been popular from the good old days and are still in trend. So, don't you think you should own too?
The black suede cord gives it an extremely classy appearance. It is indeed a sophisticated piece of jewelry. This can be worn both as a bracelet and an ankle bracelet.
You can use the cord of your choice. This ankle bracelet is a wardrobe essential for all women out there.
Summery and stylish, this pearl ankle bracelet is a perfect match for this summer. It gives a good traditional look too. 
Instead of the love charm, you can either use alphabet charms or bend the wire in the form of the particular word that you want.
This beautiful ankle bracelet with feathers and lace give a unique and perfect gypsy look. This will be a distinct addition to your accessory collection.
Shell ankle bracelets will give you the perfect beach look. You will just need some shells and beads of your choice to make this.
The coins in this ankle bracelet bring about a vintage look. Lease a new life to your trendy outfit with a little bit of vintage touch and flower designs like roses!
Want to be beach ready? So go on and make this simple beach ankle bracelet to flaunt in your next holidays.
Rope ankle bracelets give an out of the box look when paired with a short dress preferably of a dark color. It is easy to make. You only need a rope and make a knot as per the tutorial to sport a unique look on your legs.
This thick ankle bracelet will give you a floral and colorful appearance. It is best worn with summer flip-flops.
So, here is a list of 36+ types of ankle bracelets and all of them are equally captivating and beautiful. So go on and follow the tutorials to make these cool ankle bracelets.